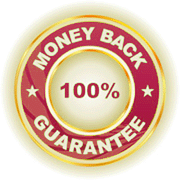 30 Day Money Back Guarantee*
The niro1.com return policy allows you to audition NIRO products purchased directly from us in your home for a 30 day period. The trial period begins on the day you receive your NIRO product. The customer must contact niro1.com and receive a RMA (return merchandize authorization) within the 30 day period before returning any NIRO product. A RMA is valid for 15 days from the issuing date.
* Returned products must be in original condition and packed in the original shipping carton.
* The customer must arrange the return shipment to niro1.com with prepaid shipping. You are responsible for any loss or damage to the product during transit (it is highly recommended to insure the return shipment).
* Any product that is returned must arrive at niro1.com before the expiration date of the RMA in order to be processed.
*niro1.com reserves the right to charge a restocking fee or refuse any return if the product is not returned in accordance with our refund policy.
The original (outbound) shipping charge is not refundable.